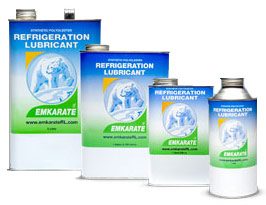 Cooling Supplies are proud to be  authorised distributors for Emkarate® POE lubricants in New Zealand.
Emkarate® is the world's leading brand in refrigeration lubricants because of its technology, versatility and content of OEM approvals. As a result it is estimated that today, Emkarate® RL lubricants are used in over one billion compressors worldwide.
Our company has extensive product knowledge across the Emkarate® RL range and we offer technical expertise regarding use of these products. Please contact us for details on availability of products and further information or visit the Emkarate® RL website.
Download – Safety Data Sheets (PDF)